03 Oct

Shawn Newland

Shawn Newland came to Unique People Services (UPS) 15 years ago with three specific goals: to secure permanent housing, reconnect with his family and obtain employment in the community. Through the guidance and advocacy of our staff, Shawn has been able to meet all three on a journey filled with hope and positivity – elements that eluded him during his life before UPS.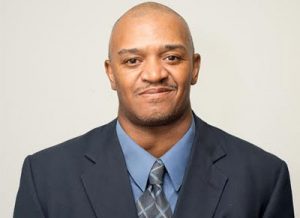 "Prior to moving into UPS' community residence, Shawn was living in a shelter exhibiting negative behaviors, causing him to lose contact with his family and become alienated," explains Anne Marie Ama, Clinical Supervisor, UPS.
Staff at the residence immediately began working with Shawn to enhance his socialization skills and tackle his behavioral challenges. He remained compliant with his treatment, displaying significant progress, which facilitated his transition into UPS permanent housing six years later.
After moving into his new residence in 2007, Shawn expanded his social network and reconnected with his family and girlfriend. With the help of UPS staff, he was able to earn his GED and join the agency's Working Stipend Program, giving him the vocational training needed to land part-time permanent employment.
"Shawn has excelled beautifully," Anne Marie says. "He's now working as an Assistant Maintenance Worker, maintaining office cleanliness and making sure things run seamlessly across our programs."
The ability to earn a living has boosted Shawn's independence, confidence and self-esteem. Laundry, shopping and trips to the post office are among the many errands he completes on his own.
Shawn's increased stability has truly transformed his life: he's now playing an active role in the lives of his young children. The encouragement and support he receives from UPS has been instrumental in motivating him to become the best father he can be. He also completed parenting skills classes, which helped to strengthen his relationship with his children. Shawn sees them on a regular basis and hopes to be awarded full custody in the near future.
"Shawn's perseverance and successful integration into the community makes him an excellent role model," Anne Marie points out.
On a clinical level, Shawn continues to stick to his medication regimen and meets with his psychiatrist and therapist once a month to stay on track. He maintains a sunny outlook on life and enjoys motivating other UPS residents to purse their goals and do the right thing to live a stable life.
So what new goals are in Shawn's horizon? He's currently pursuing his musical talents and plans to showcase his songs on YouTube for the world to see.
"Shawn recognizes that he is in a good place," Anne Marie says. "He is grateful to UPS for providing the necessary services to help him achieve social integration and lead a rich, fulfilling life."
Please join the UPS team in congratulating Shawn Newland as our Individual of the Month!