03 Mar

Nadine Moore

Nadine Moore is a 53-year-old African-American New York City native, born in Manhattan and raised in the Bronx. She comes from a nurturing and loving family where she has always had support from her siblings and cousins. A passionate and thoughtful woman, Nadine started Nursing school, but soon withdrew to solely focus on raising and instilling family-values in her four now-adult children. She intends on returning to school and fulfilling other personal goals that align with her passion for cooking and educational values.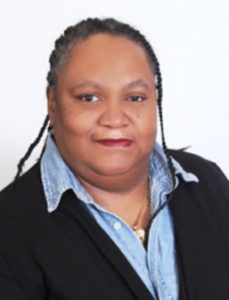 Over 20 years ago, Nadine struggled with drug addiction, which she overcame through services from an outpatient program and has been clean since then. More recently; in September 2014, Nadine was enrolled into our program after she met a UPS staff member, Wilbert Robins, at the Montefiore Clinic.
Nadine continues to exude enthusiasm to other program and staff members. She is excited about life and continually reminisces on the many obstacles she has faced and shares how she has overcome. UPS has been an integral support system and resource; helping Nadine transition from the New York City Shelter system into her own apartment and providing services that cater to her individualized needs. She attends all holiday events and celebrations without hesitation or exception. She attends three groups: [the] Women's Group, Harm Reduction and All About You. In these groups she shares her laughter and good-natured approach to life with her group members..
Nadine continues to make progress through assistance from Unique People Services (UPS) toward reaching her personal goals. She acknowledges and thank UPS staff regularly for their patience and for consistently reminding her of the values instilled in her from her family and the legacy she is building as a courageous and supportive woman.
Please join the UPS team in congratulating Nadine Moore as our Individual of the Month!