03 Jul

Linda Camaj

Linda Camaj moved into a Unique People Services (UPS) residence 21 years ago a shy young lady who often kept to herself. With the support and encouragement of UPS' direct support professionals, Linda's personality gradually blossomed, as she began to embrace opportunities for increased socialization.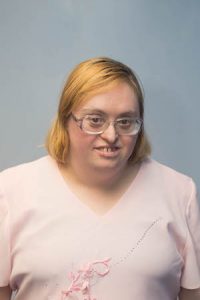 As a result of these positive interactions, Linda's communication skills have dramatically improved, according to her residence manager. The nurturing, trusting rapports that have continually been built at the home have enabled Linda to grow more comfortable and self-confident. She is able to successfully express herself to communicate her wants and needs around the residence. Her listening skills have also grown stronger, which allowed her to learn the names of her peers and staff, who she now calls by name.
Around the residence, Linda has become staff's go-to person whenever they need assistance with household tasks. During dinner, she eagerly sets the table and clears it just as quickly after the meal is completed. She also helps staff rinse kitchen utensils and load them into the dishwasher. Upstairs, Linda keeps her room equally tidy, helping to fold and organize her clothes, especially on laundry day.
When she's out in the community, Linda enjoys trips to the grocery store to choose her favorite snacks. With the supervision of UPS staff, Linda interacts with store employees to make her purchases and complete the transactions. She takes pride in helping staff cross items off their shopping list and contributing to household needs and responsibilities.
And of course, what would community outings be without fun recreational activities? On weekends, you'll probably find Linda knocking down a few pins with peers and staff at a local bowling alley, or taking in a film at a nearby movie theater. Linda also enjoys watching a variety of sports, including baseball and wrestling, and looks forward to attending live sporting events any chance she gets!
While Linda happily thrives at UPS, she exhibits a friendly demeanor and outstanding behavior management skills. Through staff's loving guidance and support, Linda continues to grow more self-sufficient while mastering daily living skills and successfully integrating into the community.
Please join the UPS team in congratulating Linda Camaj as our Individual of the Month!