03 Mar

Kerry Ann Campbell

Thirty-year-old Kerry Ann Campbell has overcome more challenges than many of us endure in a lifetime. After moving to the United States from Jamaica in 2000, she had to adapt to a whole new culture while shuffling from house-to-house living with different relatives. As a consequence of the untimely passing of her boyfriend ten years ago, Kerry Ann was hospitalized with severe depression and diagnosed with schizophrenia. She would ultimately wind up in a Manhattan shelter where she lived for six months before moving into Unique People Services John G. Hunter Apartments in May 2011.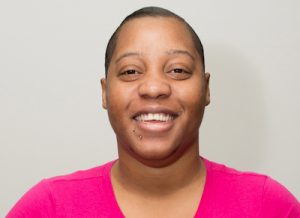 Unique People Services staff recall Kerry Ann's initial arrival as an anxious young woman struggling to cope with the symptoms of schizophrenia. She would only take medication as needed, rather than stick to a daily regimen and treatment plan. With the guidance and compassionate care of our clinical staff, Kerry Ann would soon gain the strength and knowledge needed to tackle her mental health challenges.
In the five years she's lived at the residence, Kerry Ann has developed a consistent routine, achieving a greater sense of structure. She adheres to her medication regimen under the watchful supervision of UPS staff, and regularly meets with her psychiatrist on a consistent basis. As a result, her anxiety levels have decreased considerably, enabling her to become more grounded and focused. Her productivity continues to soar, thanks to the opportunities for enhanced growth and independence UPS provides. Kerry Ann currently volunteers at another agency program, assisting residents and staff with a variety of tasks including housekeeping and meal preparation. She's so well-liked at the residence that the agency is hoping to employ her permanently.
The drive and determination Kerry Ann displays doesn't stop there. She has a number of goals in place, including working toward her U.S. citizenship. She's also pursuing her GED, taking night classes three times a week to further this goal. Kerry Ann plans to attend college and become a social worker. It is her hope to follow in the footsteps of the UPS staff who have helped her turn her own life around.
Her chosen career path comes as no surprise to those who know her. Kerry Ann is regarded as kind-hearted and helpful, always ready to lend a hand. During the holidays, she enjoys participating in our annual production of The Three Kings, and can often be found leading other holiday celebrations throughout the year.
Kerry Ann's remarkable progress earned her a Citizen of the Year Award, presented at one of our programs' 10th Anniversary Celebration last December. She credits UPS staff for their continued encouragement and support, helping her to always focus on the positive while moving in the right direction. Kerry Ann "feels more independent" every day and has now set a new goal for this year: she wants to live on her own.
With her strong motivation and inspiring can do attitude, we're certain Kerry Ann will make it happen!
Please join the UPS team in congratulating Kerry Ann Campbell as our Individual of the Month!