03 Jul

Judana Pierre-Louis

When Judana Pierre-Louis moved in with us in 2011, her mother was seeking a home where she knew her daughter would blossom. Four years later, UPS staff has witnessed the then-shy nineteen-year-old transform into a vibrant young lady.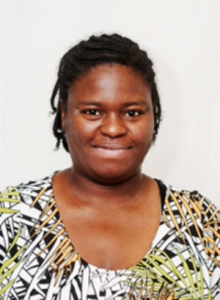 The strides that Judana has made are remarkable by any standards for growth and personal accomplishment. Day by day, week by week, month by month, Judana began interacting more and more with her peers and with staff. As she developed skills in how to engage with others, she began learning how to get along within the UPS community and beyond. As she acquired socialization skills, she also began taking pride in her household responsibilities and in her personal grooming habits.
In four years of developing important self-actualization skills, Judana has come out of her shell and is perhaps a fuller version of her former self. For example, while Judana is non-verbal, her smile says it all. Her face lights up when she plays music (she operates the CD player herself) and she's been known to break into dance routines on more than one occasion. Judana enjoys going out into the community and being a part of her community at large. She will give staff just moments to go with her into the community when she is ready to go, her sly smile and gesture to go out lets them know it is time. She expressly enjoys sitting in the local park and going to the local Dunkin Donuts for coffee. She has developed strong relationships with her peers but also expresses when she wants to be alone and to just do Judana. She has a wonderful relationship with her mother who continues to act as her guardian and knows her daughter best, while always advocating in her best interest.
Her zest for life is matched by her independence, which UPS has helped to foster. She's particularly handy around the kitchen: at breakfast, she makes toast and coffee (her favorite beverage) under the watchful supervision of UPS staff. Judana enjoys working on the computer and volunteering within the community during the day and spending time with friends and family in the evening.
Judana has her own style of dress and knows how she would like her hair, nails and outfits to represent her personality. There is no changing her mind when she has made up her mind to do or wear something. Judana has her regular routine which includes food shopping for her house and purchasing daily supplies.
Outside the residence, Judana loves socializing. She is a part of the ladies social group and enjoys doing "girl" stuff with friends and peers. She loves planning her weekend with activities that she enjoys doing. She also loves to attend a Friday night social at a local community organization.
Judana expresses enjoyment at the life she leads and the support she receives from UPS. Judana totally understands that she has the right to make decisions concerning her life and she enforces that right daily. She loves to laugh and to live life on her terms and we are happy to have her as a part of our family.
Please join the UPS team in congratulating Judana Pierre-Louis as our Individual of the Month!