03 Feb

Jaombay Wells

"What does it take to be a champion? Desire, dedication, determination, concentration and the will to win!"


-Patty Berg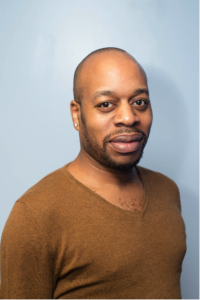 Jaombay Wells has a will to win. He has an infectious effervescent personality that compliments his determination, focus, and dedication to improving his life through education. That is why he was selected as our February Individual of the Month.

Jaombay Wells has been an individual with the Unique People Services for almost two years. Before coming to UPS, financial stresses were making him feel overwhelmed, which was causing him high levels of anxiety. He lived on his own until he lost his apartment and then moved in with his family. It was at this point that he was referred to the UPS/ by his former case manager and accepted our services of stable housing and case management so that he could progress toward more independent living.

Jaombay also worked for twenty-two years as a patient care associate at various NYC health facilities. As a patient care associate, he functioned in a variety of capacities, from working in the informed care to the trauma unit. However, even though he loved his career, he knew he wanted to accomplish more and going back to school was always at the forefront of his mind. Jaombay shared that he realized that he didn't want just to work to "live," that he wants to thrive! This as he puts it, "can only be achieved by doing something he loves and allows him to give back to his community." He also shared that he "realized that he wanted and needed to make a positive change." He took a leap of faith and left his job and became focused on building a better future and life for himself. His introduction, as he puts it was a blessing!"

After moving from his native borough and settling in the UPS program, UPS staff assessed his needs through intensive case management and created a plan to help him achieve his goals. Since his arrival, UPS staff has worked with Jaombay to set goals. The UPS staff is very impressed with his progress, stating that the length of time Jaombay has taken to improve his life, is nothing like they have ever witnessed. The staff has further said, that he is focused and unwavering in his commitment of social adaptation and integration in the community. With ongoing monitoring and support, Mr. Wells maintains his strict adherence to his regimen, while demonstrating healthy social, emotional and coping abilities and adaptability. Mr. Wells states, "That he loves his UPS family and feels a part of a true community."

Shortly after his arrival at UPS, Jaombay enrolled in a local college in The School of Allied Health taking on a full-time course load. Jaombay has consistently maintained a high-grade point average, which has earned him academic honors and the distinction of being a student on the colleges' élite Dean's list, maintaining his grade point average of 3.75. He will graduate in the summer of 2018 with an Associate Degree in Medical Administration.

Jaombay's goal is to immediately continue his education, only taking a two-week break after graduation and quickly enrolling again to attain a Bachelor's Degree in Health Services Administration. Jaombay's dreams of becoming a college professor or working at the US Center for Disease Control.

Single with no children, he keeps his apartment immaculate and enjoys spending time with his pet companion Denim. Denim is his a small loveable Shih Tzu, that was a precious gift given to him by a now deceased friend. Jaombay also calls Denim his motivator, as they both share a routine of rising early to take walks in the local park, which helps Jaombay to jump-start his day!

Jaombay truly loves and values his family. The oldest of six, he calls his siblings, his "best friends" and refers to his mother a "fabulous human being." He glowingly talks about their support of his goals and even fondly recalls a time when his education paid off with one of his siblings during a car purchase negation. Two family members have also relocated to be closer to him and support his positive growth.

Jaombay is also an avid reader and enjoys reading anything related to his educational attainment and is the President of the College Book Club. Jaombay shared that when he first entered college, his writing skills were not up to par, so he took a remedial English class, finishing the course with a grade of A. During the class, his then Professor introduced him to the College Book Club. He manages the administration of the club, helps to make reading selections and meets weekly with club members between classes to discuss. Jaombay says that this is indeed one of the highlights of his college experience.

So what's the secret to Jaombay's success? According to UPS staff, he took the leap to move forward and has never looked back. He works extremely hard to meet his personal goals and is determined to be successful!

Mr. Wells is indeed an excellent model client, whose determination and steadfast pursuit of his goals make us proud!

Please join the UPS team in congratulating Jaombay Wells as our Individual of the Month!