03 Aug

Jamal Griggs

Jamal Griggs was facing various behavioral health struggles when he moved into Unique People Services (UPS) in 2012. Consumed by delusional thoughts, disruptive behavior became a common occurrence for the 42-year-old, resulting in conflicts with other residents and chronic hospitalization.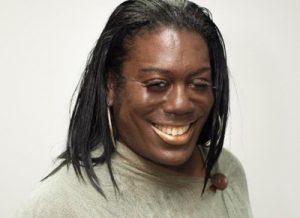 Four years later, life at UPS paints a different portrait for Jamal. Now 46, he's more stable and completely proactive in his daily regimen. Case Manager Maya Chandally has been working closely with Jamal for the last ten months and has seen remarkable improvement. "Last year, ambulances would be called sometimes twice a day, but now, we're happy to report that Jamal hasn't been hospitalized in months," she says.
Instead, he's complying with the many programs he attends, including assertiveness and self-esteem groups that Maya runs. The sessions teach members how to establish healthy boundaries with others, how to become more emotionally independent, and how to successfully maintain relationships. Earlier this year, he even received a certificate of completion from one of UPS' community health partners after graduating from a six-week program comprised of therapy and other activities designed to help individuals thrive. The personal feat filled Jamal with pride, giving him a deep sense of accomplishment. And, of course, Maya and her UPS colleagues were there to cheer Jamal on, inspiring him to keep going on his path toward successful treatment.
With the structured routine and positive support that the agency provides, Jamal has learned to become compliant with his medication regimen. He now maintains a peaceful relationship with staff and residents, displaying improved socialization skills and enhanced community integration. He's also grown to be fiscally responsible: paying his rent on time has become much more feasible for Jamal.
Case Managers hope to enroll Jamal in a new day program soon, and if he has his way, he'll soon be attending cosmetology school. His love of beauty and fashion is apparent to anyone who meets him. He travels independently around the neighborhood buying clothes and hair care products to come up with the perfect look. He spends hours grooming himself to the sounds of 103.5 KTU on the radio.
Acknowledging his own progress at UPS, Jamal says, "I've learned to cope better with others, to take my medication independently, and to get things accomplished."
For Maya and others who know him, Jamal proudly represents the ability to achieve mental stability and overcome behavioral health challenges to lead a happy, fulfilling life.
Please join the UPS team in congratulating Jamal Griggs as our Individual of the Month!