03 Feb

Ernest Scalza

Last month, Ernest Scalza celebrated his fifth anniversary with us. Since arriving at the residence, he has continually flourished under the loving care of UPS' dedicated staff.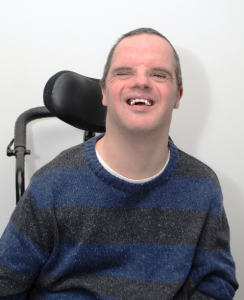 While non-verbal, Ernest is able to communicate through sign language, and also gesticulates to express his wants and needs. Many point out "He likes to be seen!" so waving his hands to get someone's attention is not out of the ordinary. If there's a place he wants to go, he takes the hand of staff and leads them in the right direction. His Medicaid Service Coordinator, who works with Ernest, has noticed significant improvement in Ernest's perceptual and receptive skills. He's quick to turn his head when someone enters the room and lights up during interaction with staff and his housemates. His affectionate, loving disposition warms the heart of many he meets. Hugging has become one of Ernest's favorite pastimes!
Ernest also enjoys movies and cartoons. He loads the DVD player without assistance and has mastered the use of the remote control. When's he's not watching Barney, you'll probably find him playing Candy Land, one of many tabletop games at the residence which he enjoys. In the summer, he loves going on vacation and being in the fresh outdoors. He also loves music and although non-verbal can be heard making sounds to the lyrics of songs he likes.
In addition to displaying enhanced communication and socialization skills, Ernest has also shown remarkable resiliency following the loss of his foster father eight months ago. Before his untimely passing, Ernest's father was a familiar face at the program; he visited Ernest twice a week and the two always cherished their time together. Staff have noticed Ernest's behavior brighten in the last five months, indicating that he's adapted to the sudden change and can successfully overcome any challenge he faces.
When it comes to his health, Ernest is compliant with his medication regimen and attends all of his doctors' appointments. As he is non-ambulatory, Ernest expertly maneuvers his wheelchair and transfers to the couch without assistance. During mealtime (chicken and rice is his preferred dish!), he opts to sit on a dining room chair as he joins his fellow housemates around the table. Once upon a time, UPS staff used to help feed and serve Ernest; now, he's filling his plate on his own and feeding himself, demonstrating a renewed independence that makes staff proud. Ernest does things his way, and his UPS family wouldn't have it any other way!
Please join the UPS team in congratulating Ernest Scalza as our Individual of the Month!