03 Sep

Erica Davis

This September marks the one-year anniversary of Unique People Services' individual Erica Davis determination and dedication to making an effort to change her behavioral challenges that so negatively impacted her life. One year later Erica has so mastered her challenging behaviors that she now demonstrates better self-control and has further established a calmer more productive atmosphere for herself.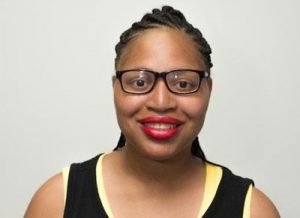 In the past cursing like a "drunken sailor" was not uncommon for Erica. According to UPS staffs use of tainted language, aggressive behaviors, police visits, and frequent allegations of biting and hitting others was a normal routine for Erica. Then earlier this year, something changed: Erica began to turn her life around and change her old behaviors…a new and improved Erica evolved!
As an alternative to creating conflict, Erica learned to curb her anger by keeping a journal to record angry thoughts. Erica now writes in her journal on a daily basis; if she forgets to bring it with her, she uses loose leaf paper to document her feelings and train of thought. Writing has become so therapeutic for Erica it has even helped to improve her reading skills. She now reads books on a regular basis. Erica contributes the "new and improved her" to her Program Supervisor, Antoinette Davidson who first suggested that Erica turn to writing down her feelings as opposed to acting out her feelings.
Through the guidance and oversight of Antoinette at the program, Erica has also achieved more structure and balance, and has gained a strong sense of accomplishment and increased independence. She helps to deliver mails to various UPS sites and also participates in Citymeals-on-Wheels, which teaches her the importance of giving back to her community and assisting others in need.
Erica has learned to warm her own food and is now researching recipes on the Internet so she can cook more and eat healthier. When it comes to performing chores at her residence, Erica has become so helpful that it prompted staff to tell Antoinette, "I don't know what you're doing, but it's working!"
Antoinette explains that a little positive reinforcement goes a long way in improving self-esteem and changing negative behaviors. "We all need encouragement and attention and Erica is no different than the rest of us," Antoinette says. "When she's wearing a pretty blouse, I tell her how beautiful she looks. It makes her feel special."
Compliments are particularly meaningful for Erica since she's a big fan of hair and makeup. She always makes sure everything looks just right before heading out the door. When she's out in the community, Erica enjoys shopping, bowling, dining out and going to the movies.
Erica's calmer nature has led to stronger socialization and better communication skills with others. According to Antoinette, it's easier to have a discussion with Erica, who now understands the difference between right and wrong and respecting the boundaries of others. "I tell my staff, 'be firm yet respectful' with Erica, and thanks to wonderful teamwork, her combativeness has disappeared and she has blossomed into a beautiful, respectable young lady."
Erica is thrilled about being featured on the UPS website as Individual of the Month, perhaps her biggest accomplishment to date. "I'm going to be on the Internet!" she said. Yes, Erica, you are…. and keep up the great work!
Please join the UPS team in congratulating Erica Davis as our Individual of the Month!