03 Jan

Edwin Cordero

February 13, 2013 is a significant date for Edwin Cordero. "It's a date I'll never forget." On this day, Edwin decided he had drank his last beer and done his last drug. "I was just tired. Tired of hurting people and hurting myself," is why Edwin recalls walking into the crisis center in the winter of 2013. Edwin was born and raised in the Bronx. At the early age of 14 he was introduced to alcohol and graduated to 'heavy stuff.' Edwin's need to belong led to numerous admissions to juvenile detention centers and as his life of crime continued, he graduated to adult prisons.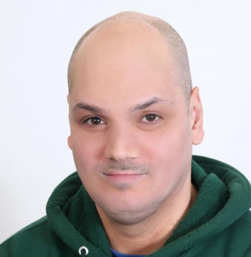 It was in one of these prisons that Edwin's mental health was addressed in a positive way. He received counseling, education and medications, "but I still wasn't ready to admit that something was wrong with me," he said. Edwin bounced around from family to friends to the streets. His homelessness fueled by his substance-use resulting in at least two suicide attempts. On February 13, 2013 Edwin reached out to his counselor who referred him to a crisis center. From there Edwin received housing through the Housing Advantage Program. He was on his way to recovery however the housing program was cancelled; leaving him homeless again. Edwin said that he could have returned to his negative behaviors, but found strength until he was referred to Unique People Services.
Edwin joined the UPS family on January 30, 2014 broken and ready for renewal which is what he stated he received at UPS. Edwin stayed to himself and slowly emerged through attending social events at the facility. Edwin attends a day treatment program several times per week and meets with a psychiatrist and therapist in order to maintain stable Mental Health. Edwin is very active in his children's lives, and in his spare time, he manages to attend to his ailing mother. Edwin said that he doesn't have any grand ambition, he only wants to be a stabilizing factor in the lives of his children and to keep on his road to recovery…"and Unique People Services can help me do that." Earlier this month, Edwin represented a group of our residents at the Campaign for NY/NY Housing on the steps of City Hall. We hope to continue to be enriched in your experience at Unique People Services.
Please join the UPS team in congratulating Mr. Edwin Cordero as our Individual of the Month!