03 Aug

Desiree Dixon

August marks two years since Desiree Dixon came to Unique People Services (UPS) facing mental health challenges and issues with substance abuse that severely impacted her quality of life. A victim of Hurricane Katrina in 2005, Desiree was later diagnosed with post-traumatic stress disorder (PTSD) and hospitalized. She was living in a New York City shelter until a referral to UPS began her journey toward personal growth, clean living and increased independence.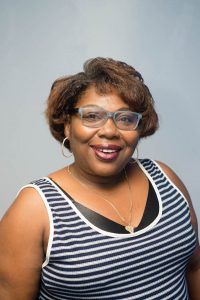 With the encouragement of her peers and UPS staff, Desiree has become more stable as she adheres to medication and program regimens. The supportive environment at the residence has been a positive influence in her life, particularly when it comes to relationship building and interacting with other residents. The camaraderie she shares with them has brought out her nurturing side; she's quick to help neighbors clean their apartments and never hesitates to cook for them or bake them a cake. During UPS events, she frequently volunteers her time and service to make sure the functions come off without a hitch.
Giving back to others is Desiree's number one priority, inspired by her ability to overcome obstacles and thrive in the community. Instead of dwelling on the negativity of her past and the trauma she endured, she credits the experiences for making her a stronger person. Desiree always makes herself available to her peers for anything they need. She recently helped a new UPS resident overcome anxiety by lending an empathetic ear to ease the individual's distress.
When she's not impacting lives at UPS, Desiree spends her free time volunteering at her church, and recently enrolled in a peer counseling program to help guide others facing similar struggles that she has encountered in life.
Taking on a new mentoring role has honed Desiree's leadership skills while increasing her self-confidence and productivity. She's always thirsty for knowledge and eager to learn new information, which is why the library is one of her favorite destinations in the community. She also enjoys watching movies, listening to music and spending time with her mother and her aunt any chance she gets.
So what's the secret to Desiree's success? According to UPS staff, her sense of humor plays a strong role. Her ability to laugh and make others laugh helps to alleviate challenging situations and lift people's spirits. Desiree's Southern accent also adds to her charm and sunny disposition. She's a bright light and inspiration for many people she meets, with a helping hand that extends far and wide!
Please join the UPS team in congratulating Desiree Dixon as our Individual of the Month!