03 Aug

Deborah Gray

"When you dance, your purpose is not to get to a certain point on the floor. It's to enjoy each step along the way." — Wayne Dyer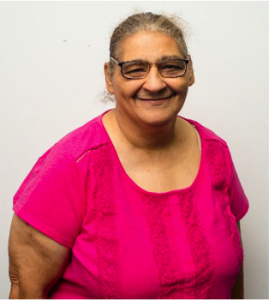 Deborah Gray never misses a chance to dance and always, always enjoys each step along the way! She is full of unencumbered spirit and joy that she freely shares with everyone she encounters.
Her friends, family and our Unique People Services (UPS) staff describe Deborah as delightful, polite, and cooperative. That is why she is our UPS August Individual of the Month.
Deborah came to UPS in 1998 and is one of our longest standing residents. She currently resides in a UPS Community Residence Single Room Occupancy (CRSRO) facility and attends a UPS day service program.
When Deborah arrived at UPS, she didn't always follow her medical guidance and struggled to manage her diabetes. However, with the help of UPS staff, she has learned how to positively monitor and manage her medical condition and is doing exceptionally well. The staff at UPS is enormously proud of her current focus on the significance of maintaining excellent health
At the residence, she maintains the cleanliness of her apartment and is a stickler when it comes to her personal hygiene. Always neat and well-kempt, Deborah takes great pride in both her home and appearance. Deborah also has the support of her counselors and friends who create a sense of family, and as a result, she speaks positively about her experience at UPS. Deborah says that she likes her home and that the staff takes excellent care of her.
Deborah is also caring and responsible, and her extremely engaging personality allows her to work well with her peers. Coupled with an infectious smile, Deborah has a wonderful sense of humor and is known for making her peers laugh. She also has the heart of a dancer and can frequently be seen dancing at the facility.
Deborah delights in and fully participates in activities such as sewing and weekly outings. However, Deborah's favorite activity is coloring. It was once said, that "Life is about using the whole box of crayons." Deborah colors everyone's world around her with her beautiful and unique vibrancy and is a pure illustration of what occurs when individuals are embraced in a service-enriched, recovery-oriented setting. We are very proud of all she has accomplished!
Please join the UPS team in congratulating Deborah as our Individual of the Month.