03 Sep

Dawn Rodriguez

Dawn Rodriguez came to Unique People Services (UPS) nearly one year ago, exhibiting behavioral challenges, a strong need for structure and a guiding hand to lead her in the right direction. Over the last several months, UPS staff have worked with Dawn to set goals and help her improve socialization skills which have increased dramatically.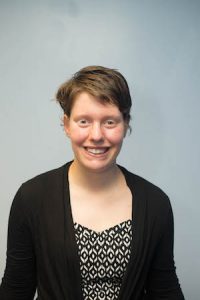 If Dawn encounters an obstacle, she is encouraged to communicate her feelings so she can talk out her issues and resolve the situation. Through the support of program supervisors, she has grown more confident when it comes to successfully achieving her goals. She is no longer afraid to challenge herself and feels comforted knowing that staff are available 24/7 to help rectify any issues she may be having.

One such area is travel training. Instead of boarding a city bus, Dawn used to try to run away, requiring intense supervision. UPS staff helped Dawn conquer her fear of public transportation. She has ridden the bus on several occasions, easing her trepidation and advancing her to less intense supervision. Dawn's next goal: to overcome her fear of elevated subway platforms and stairs. With staff by her side, she has already showed signs of success, carefully navigating any set of stairs she encounters with increased self-assurance and determination.

As she continues to successfully integrate into the community, Dawn is enjoying a variety of outings. Like many women, she likes a bit of pampering, especially manicures. When Dawn visits the local nail salon, she appreciates the ability to make choices and select her own nail color preference. Whether she's at program or out in the community, Dawn has become more aware of the decision-making process and how to make the best choices to achieve appropriate outcomes.

Dawn's math and reading skills have also improved, as well as her perception skills. She is able to remember streets and landmarks when traveling in the community. When visiting the library, her enhanced interpersonal skills are frequently on display. She loves mingling with others and is proud of her ability to check out CDs and DVDs on her own.

Future goals include mastering money management, which Dawn has already kick-started. She recently saved four weeks of her allowance so she can purchase different items, exhibiting a sense of responsibility and will power that many shoppers do not have!

As Dawn's skillsets increase each day, so have additional opportunities for growth. Staff recently helped Dawn complete an application to participate in a volunteer companionship program for the elderly. She also helps to deliver mail to UPS sites every Wednesday.

Knowing she's helping to make a difference gives Dawn a strong sense of pride which carries over to her demeanor. She exhibits a great spirit and often spreads positivity to her peers, greeting everyone she meets and cheering up anyone who may be feeling down. And if you ask Dawn how she's feeling, she'll most likely answer, "I'm great, thanks for asking!"

Yes, Dawn, you are doing great and your wonderful progress continues to make us proud!

Please join the UPS team in congratulating Dawn Rodriguez as our Individual of the Month!