11 May

Building A Dream For Low-Income New Yorkers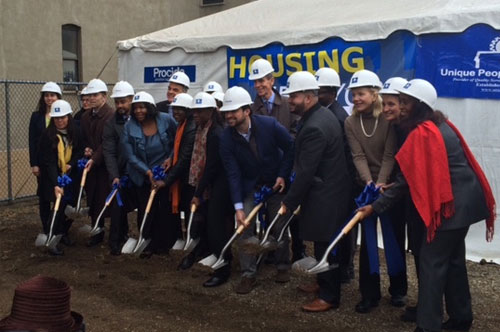 We can't think of a better way to celebrate our 25 th anniversary than by watching our first affordable housing complex, Lynn's Place, come to life. After a thrilling groundbreaking last December, we began construction on the 69-unit residence earlier this year – a project that will help curb homelessness and provide vital on-site support services to residents in need.
As of May 1 st , all foundation footings are securely in place including the building's rear courtyard and sloped garden, which by next year, will be a tranquil oasis for low-income residents who call Lynn's Place home. Underground plumbing and excess soil removal are ongoing, while construction on the first floor is scheduled to begin later this month. Rear and side yard concrete curbs are now complete.
With all work progressing as scheduled, Lynn's Place is on track for its Fall 2017 opening, bringing us one step closer to expanding our reach into the community and improving the quality of life for so many more New Yorkers!