03 May

Benigno Gual

Benigno Gual came to Unique People Services (UPS) last year in need of compassionate care and guidance to steer him on a brighter path. As a non-ambulatory individual facing several health challenges, getting around New York City was difficult and discouraging, causing Benigno to lapse into periods of depression. He became withdrawn, turning to drugs to escape the physical, emotional and economic barriers he faced.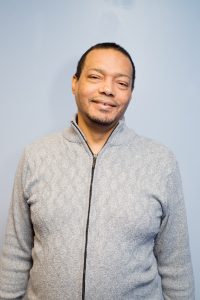 Upon receiving case management services at UPS, Benigno's solitary world suddenly began to shift. "After witnessing his isolated lifestyle, our case managers encouraged him to join our support groups and become more interactive," recalls Benigno's program director.
Each week, Benigno attends UPS' "All About You" group with five of his peers, learning about self-advocacy and community resources to keep him on the right path. He continues to bond with others in the group, grateful to have an empathetic ear, which he sometimes lacks while living alone.
Having a support network has been vital to helping Benigno live a healthier lifestyle. He's been clean for more than a year, and has no intention of turning back to the dark days and hopelessness of chemical dependency. "Benigno does not give up," his program director points out. "While at UPS, he has grown stronger and more confident, and he's developed a thicker skin."
Benigno has also remained consistent with his treatment. He renews his medication regularly and rarely misses a doctor's appointment. His UPS case manager is always there to provide a gentle nudge if needed, and for that, he's "grateful and appreciative," says Benigno's program director.
Another factor that has contributed to Benigno's brighter outlook is the recent acquisition of prosthetic legs. For the first time in many years, he no longer requires the use of a wheelchair, resulting in increased mobility and self-esteem.
Community outings have become more frequent for Benigno – you'll often find him participating in activities at his church, or shooting some hoops on the basketball court. UPS staff are working with him to find additional outlets so that he can continue to strengthen his socialization skills and take advantage of everything New York City has to offer. Their encouragement has led him to pursue his love of music; he now plays the conga drums any chance he gets.
Benigno's renewed self-confidence has inspired him to set and meet other goals, including kicking the habit: he recently quit smoking, determined to maintain the positive health outcomes he has achieved. Next on his list: a place to call his own. UPS case managers will soon work with Benigno to obtain supportive housing so he can continue to flourish and grow more independent in the community. He's also hoping to go back to college. With his drive, commitment and positive outlook, we're certain that Benigno will make every goal a reality!
Please join the UPS team in congratulating Benigno Gual as our Individual of the Month!