03 Nov

Ann Concepcion

It's been a busy month for UPS Individual Ann Concepcion! On October 20th, she kicked off Unique People Services' 25th Anniversary Gala with a powerful rendition of the "Star-Spangled Banner." Ann's passionate performance brought the house down, as 300 guests were brought to their feet in admiration.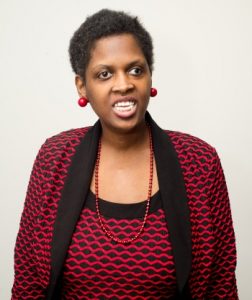 For staff who know her well, the crowd's reaction came as no surprise. "Ann is our little star," says Mercelle Mason, Program Director, UPS.
She's affectionately known as a diva, Mercelle says, noting that, "nothing gets past Ann." If someone is wearing a new outfit or requires a touch-up to their manicure, Ann is quick to notice. When it comes to jewelry, Ann is particularly perceptive, examining staff from head to toe to assess every earring and necklace. She often gets lost in her own jewelry box trying to come up with the perfect set to match her outfits.
Ann's outgoing behavior and careful attention to details have significantly grown since moving into her UPS residence in 1997. The behavioral challenges she experienced have decreased tremendously, thanks to continued support from Mercelle and other UPS staff. Ann successfully maintains her medication regimen, follows direction well and knows how to advocate for herself. "She's grown to be in touch with her feelings and knows what's needed to ease any negative behaviors that arise. She's quick to apologize and to ask for a 'timeout,'" Mercelle explains." Ann's physical health has also improved since coming to UPS. Through the guidance of staff, she's learned how to improve her diet, resulting in better nutrition and a significant weight loss.
Ann's leadership abilities have also blossomed at UPS. She's such an asset to her Day Hab Program that she was recently appointed as lunch room monitor, helping to ensure individuals eat slowly and carefully. She's also the lead singer of the program's choir (with her amazing voice, it's no surprise!). The group has performed at locations across the city, such as Queens College, Terrace on the Park in Flushing Meadows and the Bronx City Council. "Ann has really developed her singing skills here. Giving people a voice though creative expression helps our individuals realize their full potential," Mercelle points out.
Around her residence, Ann is just as active. She happily participates in chores and appreciates the opportunity to contribute. In the kitchen, you'll often find her helping with the dishes or learning how to cook. Staff are currently teaching Ann how to prepare yellow rice. She also does her own laundry under the watchful supervision of direct support professionals. Ann even assisted at the last staff meeting, helping to announce the agenda to keep things running smoothly.
Her affectionate nature also shines through when interacting with staff. The care and compassion they demonstrate have definitely rubbed off on Ann. "If she hasn't seen you in two days, she'll immediately ask if you're okay," Mercelle explains.
According to Mercelle, Ann is friendly with anyone she meets, especially her peers. She's part of a social group that coordinates events with other UPS residences, including a fun Halloween party held last month. She's looking forward to Thanksgiving and didn't hesitate to invite everyone she knows! "For Ann, caring is sharing," Mercelle says.
Amid her busy social calendar, Ann continues to meet her goals and enjoys setting new ones. Her latest goal: to marry her boyfriend, Kevin, and master her daily living skills to gain more independence and eventually live on her own with her future husband. With her strong enthusiasm and determination, there's no stopping her!
Please join the UPS team in congratulating Ann Concepcion as our Individual of the Month!