03 Nov

Yugenia Chertavosky

Twenty two years ago Yugenia Chertavosky family migrated to the United States from Russia after the death of her mother. Prior to coming to UPS, Yuegenia lived in a state-run mental health institution in Queens. In March of 2014, she moved into one of our residences and despite all of her previous transitions, she has adjusted well and even bonded with the other individuals in the home.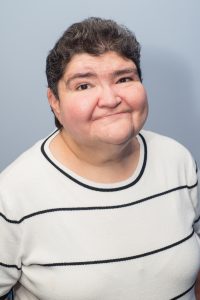 A key to her successful transition to UPS has been her continued interaction with her brother, Alex. They speak every day and he often picks up her to take her on outings with his wife and son. Recently, he stopped by to treat her to dinner…on HIS birthday. It is during these visits that Yugenia gets to speak in her native tongue, Russian, and relive the days of old. Her sister in law also provides her with books in Russian so that she can continuously sharpen this skill and further feed her love of reading.

Yugenia is a self-proclaimed foodie, when asked her favorite cuisine she replies mater of factly, " I eat everything!" She also loves coffee. She's very sociable and can be found on any given Friday night prepping her hair and nails for the weekly socials held at the Queens Center for Progress. Yugenia also enjoys playing games with her peers, but cheaters beware, she does not tolerate unkind behavior or rudeness.

Although Yugenia is only forty – nine years young, her protective nature and speak her mind attitude have earned her the nickname "Grandma". Yugenia is very self-aware and as such she has become an advocate for her peers and can often be found playing peacekeeper and/or defending the rights of others who she perceives have been wronged.

Yugenia currently attends our UPS Queens Day Program Without Walls. Day Habilitation services can assist individuals to acquire, retain or improve their self-help, socialization and adaptive skills, including communication, travel and other areas in adult education. Utilizing the community as a teaching tool and seeking opportunities for volunteerism, each individual has the opportunity to design a daily activity schedule specific to their personal goals and outcomes.

Yuegenia takes part in every scheduled activity at the programs and enjoys reliving her day with the staff when she returns home each night. Some of her favorite outings include trips to the zoo and the museum, but she is also quite comfortable finding a quiet corner to herself to read.

Yugenia is has consistently shown improvement each year and is such a delight to staff and peers.

Please join the UPS team in congratulating Yugenia Chertavosky as our Individual of the Month!