03 Apr

Yiyi Huang

When you first meet Yiyi Huang, you can expect a big hug and a smile. As a participant in Unique People Services' this program, Yiyi brings unlimited energy and enthusiasm to the program which teaches vocational and daily living skills to eight individuals with developmental disabilities.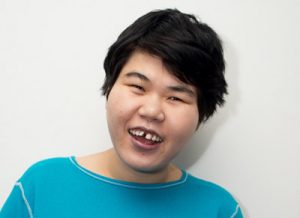 Yiyi, who's also visually impaired, never let's physical challenges stand in her way of living a happy, productive life. Guided by UPS' nurturing staff, Yiyi has developed enhanced confidence and behavioral skills since entering the program one year ago.
Community integration has been vital to improving the challenging behaviors Yiyi used to exhibit. The encouraging group setting Day Hab provides has taught Yiyi to curb aggressive behaviors (since participants receive equal amounts of attention), enabling her to thrive among her peers. Some of Yiyi's favorite activities include arts and crafts, story time and sing-alongs ("Old MacDonald Had a Farm" is her favorite). She also enjoys community outings, especially bowling and museums. When out in a crowd, staff playfully refer to her as the "attention seeker" – Yiyi loves an audience and isn't afraid to turn a head or two with her bubbly disposition and making her needs known.
Yiyi's socialization skills continue to improve each day, as well as her activities of daily living (ADL) skills, thanks to the guidance of dedicated UPS staff. She also volunteers to tidy up the activities room at the program and loves to contribute any way she can. With a renewed sense of self-assurance, Yiyi now walks without any assistance – a much different scenario than last year when she timidly held staff's hands anywhere she went. When the bus picks her up for Day Hab each morning, she happily makes her way onto the bus ready to start her day!
As Yiyi continues to excel, UPS staff have now helped her set new goals at the program: sharpening her English language skills (her native language is Mandarin). While Yiyi successfully follows instructions in English and can repeat what staff tells her, they're currently strengthening her communication skills even more. She has already learned to say "good morning" and "thank you" on her own; she also counts and recites the days of the week. Yiyi has even created loving nicknames for UPS staff, including Shaleen McKenzie, whom she affectionately refers to as "Sha Sha."
Sha Sha and all UPS staff are thrilled with Yiyi's progress and look forward to more remarkable growth in the future!
Please join the UPS team in congratulating Yiyi Huang as our Individual of the Month!