03 Jun

Virgilio Gueves

Virgilio Gueves arrived at Unique People Services more than two decades ago. After overcoming challenging conditions at Willowbrook, he was in need of a safe haven; an alternative to the institutionalized setting he was used to for so many years.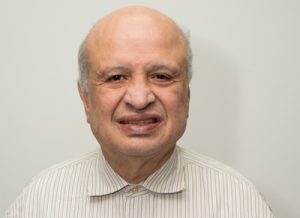 Through exemplary, compassionate care, Virgilio began thriving at UPS, building a strong level of trust with direct support professionals that remains to this day. Ever since Virgilio moved into the residence, staff have watched his daily living skills grow. Virgilio is able to feed himself during mealtime – a skill he didn't have when he first moved into the house. After he's done eating, he's quick to clear the table and load the dishwasher, displaying increased independence and more confidence.
When it comes to his personal appearance, Virgilio is immaculate. He's able to dress himself (under the watchful supervision of staff), and won't leave the house until every button on his shirt is fastened. Sometimes other individuals try to lend Virgilio a hand, illustrating the deep bond he's developed with his housemates over the years.
While his socialization skills have grown at the agency, so have his communication skills. Although he is non-verbal, Virgilio is able to express his wants and needs to staff. When he's hungry or thirsty, he takes direct support professionals by the hand and leads them into the kitchen to point out the item he desires.
Around the residence, you'll also find Virgilio enjoying recreational activities, especially tabletop games. Staff are currently teaching him how to play checkers. Upstairs, Virgilio's bedroom has become his sanctuary, lovingly decorated by staff to reflect his love of the New York Yankees. The warm, personalized atmosphere is apparent to anyone who visits.
Virgilio is also thriving thanks to continued community inclusion that UPS provides. He cherishes neighborhood outings in the park and loves to go bowling.
Perhaps the biggest change staff have witnessed in Virgilio in the 20+ years he's lived at the residence: he's always smiling. His sunny disposition is what makes him lovable to staff, and indicates that he feels safe, happy and comfortable in the residence he calls home.
Please join the UPS team in congratulating Virgilio Gueves as our Individual of the Month!