03 Sep

Tracey Aretakis

Tracey Aretakis has truly found a haven at UPS. Before moving in with us in July 2014, she lived in numerous city homeless shelters and was admitted to Bronx Psychiatric Center where she was treated for schizophrenia.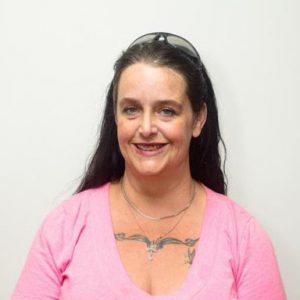 Tracey arrived in a dark place, struggling to cope with a personality disorder without any loved ones to support her. Adjusting to her new surroundings was frightening and difficult for Tracey. The first three or four weeks with us were particularly challenging for Tracey. Tracey was confrontational with her peers and staff. She relied on staff to sort out each conflict – whether they were big or small.
In the last year, the case management team worked closely with Tracey to improve her problem-solving skills. Rather than act on emotions, UPS has helped Tracey to learn how to control her impulses. Staff has also helped strengthen her interpersonal skills. In the past, Tracey would just walk up and talk to a staff without waiting to be acknowledged or for them to finish an existing conversation. Now she makes appointments with case managers and knows how to follow the chain of command.
Another wonderful accomplishment is Tracey's life has taken on more structure. While living with us, she's been able to develop a routine and stick to it, enhancing her autonomy and stability. After Tracey wakes up each morning, she immediately makes her bed, tends to her personal grooming and attends any appointments she has. In the afternoon, she has lunch, then spends the rest of the day expressing her creative side.
At UPS, we're firm believers in therapeutic recreation; it's an important part of the rehabilitation process. With the support and encouragement of staff, Tracey writes about her thoughts and feelings, including daily affirmations.
The positivity she expresses on paper has inspired her to work on other projects. When out in the community, Tracey gets design ideas from window displays and decorates her room, creating her own personal space of tranquility. If there's a social event at Haven, Tracey's quick to offer her decorating skills; she also assists in the kitchen and helps with cleanup.
As Tracey continues to thrive, past symptoms of schizophrenia no longer dominate her life. Since moving into Haven, she's kept all of her doctor's appointments and has successfully adhered to her medication regimen. As a result, Tracey has had zero incidents of hospitalization. The self-improvement we have witnessed is extraordinary. Even more extraordinary: Tracey is scheduled to move into permanent housing in the coming weeks.
Tracey exemplifies everything UPS stands for. If you're coming from a dark place, there is always hope. Never give up on yourself because change is possible.
Please join the UPS team in congratulating Tracey Aretakis as our Individual of the Month!