02 Feb

Tahirah Temple

"See me for me and I will be all that I can be!"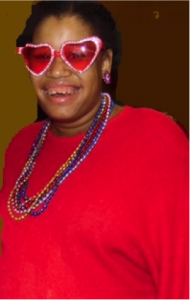 Tahirah Temple, or Tee-Tee as she is affectionately known, is a Unique People Services (UPS) individual. Tee-Tee is an appropriate nickname for her vibrant personality because she could also easily be known as Terrific Tahirah! Everyone who meets her is draw in by her tremendous smile and contagious personality. Tahirah stands out because of her positive, infectious effect on people, and that is why she is our UPS February Individual of the Month.
Tahirah is a longstanding Unique People Services (UPS) individual and she currently resides in a UPS residential facility. When she first arrived at UPS, staff recall that she was extremely temperamental and didn't respond well to her peers or staff. However, that is no longer the case.
Since engaging in the UPS program and services, Tahirah has displayed remarkable improvement. With the help and support of UPS staff, Tahirah has been able to meet her full potential and gain that allow her to be independent. For example, Tahirah has established strong relationships with her peers and enjoys spending time with them participating in community activities. Another example of her marked improvement is her desire to help. Tahirah is always the first to help by setting the table or cleaning up after meals. UPS is very proud of her accomplishments, and as one staff members stated, "Tahirah is a great example of individual growth, she is an absolute pleasure to work with."
Tahirah also exhibits her daily independence by participating in her own self-care. She is a bit of a fashionista! She loves to have her hair and nails done and is always dressing up. In addition to the joy that fashion gives her, one of Tahirah's other favorite pastimes is to listen to music and dance! She can be seen frequently at the residence dancing to classic Michael Jackson songs and other artists. When asked why she likes to dance, Tahirah shares that, "It makes me happy."
Tahirah has a very supportive family that visits her often. She truly enjoys her family and receives daily calls from her grandmother as well as visits. Her aunt is also involved and supportive and never misses a special occasion. During her visits her aunt is known to bring Tahirah her favorite comfort foods of fried chicken and French fries, as well as her delicious homemade coconut cake for Tahirah and the staff to enjoy.
Tee-Tee's unique enthusiasm for life and her growth make her a pure illustration of what occurs when individuals are supported in UPS' service-enriched environment. Tee-Tee is learning every day to be her best and we are very proud of all she has accomplished!
Join the UPS team in congratulating Tahirah as our Individual of the Month.