03 Dec

Rosa Jiménez

"When we focus on our gratitude, the tide of disappointment goes out, and the tide of love rushes in." — Kristin Armstrong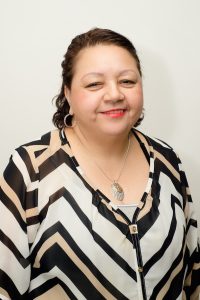 During this holiday season, we all share gratitude for the wonders that life has to offer. Ms. Rosa Jiménez is no different. As a result of the services she received from Unique People Services (UPS), she has gone from surviving to thriving and is grateful for her new life! Rosa Jiménez is a Unique People Services (UPS) client who, against all odds, has persevered to create positive change in her life. That is why she is our UPS December Individual of the Month.
There is always a heartbreaking backstory to homelessness. Many of these stories include a trauma that has left a person unable to cope with everyday life. Ms. Jiménez knows all too well that life's unexpected challenges can thrust a person into homelessness.
Ms. Jiménez arrived at UPS in 2009 seeking services. At the time, she was newly homeless and suffering from severe depression, anxiety, and major medical issues. Rosa describes that time in her life as very emotional. "One of the reasons that I became homeless was because I was experiencing medical issues, which also caused numerous stressors. I was overwhelmed and had to leave a job that I loved." She further shared that, "I was seeking assistance and was referred to UPS."
When Ms. Jiménez arrived at UPS, the staff immediately assessed her situation and began developing a plan that would get her into a home. UPS staff helped with her medical management, visited her monthly, and supported her with resources so that she could successfully manage her stressors. Once Rosa started receiving the services UPS offered, her life began to change. Within months, she moved into a home and was well on her way to effectively managing her health.
With admiration, Rosa's UPS case manager shares the growth and improvement he has witnessed: "To watch someone become stable in their life is extremely gratifying. I also am elated to know that such a great client is moving on because of our help."
Ms. Jiménez also is described as a model tenant and has moved from her original apartment to a new independent senior apartment that is described as warm and welcoming. With a smile and chuckle, Rosa recounts the moment when she told her building superintendent that she was moving: "He congratulated me but was sad nonetheless."
Her case manager agrees. "Rosa is not only a great client, but her home is immaculate!" says her case manager. "It's no wonder the superintendent will miss her," he shares with a smile.
In her spare time, Rosa is very involved in church activities, and enjoys reading the Bible and watching her Spanish-language soap operas (novellas). She also has adult children and several grandchildren, who she is hoping to spend more time with in her new apartment, especially during the holiday season.
"I couldn't have done it without UPS," Ms. Jiménez shares. "UPS filled my life with kindness, hope, and understanding, and now, because of how they helped me, my cup is full with love and gratitude."
Please join the UPS team in congratulating Ms. Rosa Jimenez as our Individual of the Month.