03 Mar

Mohamed Elmansouri

"Enthusiasm is everything".

–Pele' Soccer Legend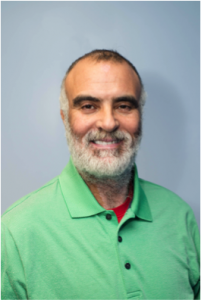 Mohamed Elmansouri is brimming with enthusiasm because of the progress he has made at UPS— and so are we! That is why he was selected as our March Individual of the Month!
Nearly one year ago Mohamed Elmansouri was living in a New York City shelter. During this period in his life, he was experiencing heightened anxiety and was feeling incredibly overwhelmed. This made it difficult for him to work. A referral to UPS helped him to begin to change his life. When Mohamed arrived at UPS, he was beset with mental health issues and challenges with medication management, both of which severely impacted his quality of life. With the help of UPS, Mohamed has begun a journey toward personal growth and independence.

Upon his arrival, UPS staff realized that Mohamed required structure and a guiding hand to lead him in the right direction. Staff created a plan that would help Mohamed stay consistent with his medication and set achievable goals for self-improvement. In less than eight months, the staff helped him to get an apartment and enrolled him in our Split Rock Adult Day Care. Our Adult Day Care services are designed for older adults to socialize, learn daily living skills, and receive therapeutic services in a day program environment. Through support and assistance, Mohamed has followed his plan and done well in this setting– so well, that UPS staff is now exploring vocational training for him. UPS staff are proud of his achievements, as he is now consistent with his medication, showing marked improvement and well on his way to achieving his goals.

Additionally, UPS staff has worked with him to improve his communication skills and he has shown a dramatic improvement in learning how to be assertive. Since working with staff, he has developed skills that allow him to respond to situations in a self-assured way, getting his point across firmly, fairly, and with empathy. If faced with a situation, program staff encourages him to communicate his feelings so he can voice his needs and wants confidently. Through the support of program supervisors, he is more confident and thereby feeling less overwhelmed and ravaged with anxiety. Mohamed says that he feels safe and secure at UPS and that staff is respectful. He also says that everything that he has learned has been incredible and he loves getting three meals a day– because he likes to eat!

One of his future goals include returning to work and Mohamed feels comfortable knowing that the skills he is learning at UPS will allow him to move in that direction. Another goal for Mohammed is to exhibit his sense of responsibility and independence, by going on a long overseas trip to visit family in his home country. He looks forward to traveling home, not only because he hasn't seen his family in a long time, but because, Mohamed knows it's a vital step for him to achieve his goals leading him to live a full life.

Described as gentle, calm, and friendly Mohamed gets along well with his peers. He enjoys spending time with them talking about soccer and music. His favorite player is soccer legend Pele,' and Mohamed draws from Pele's reputation as a person that thrives to live a healthy and happy life. Music is another activity that Mohamed enjoys. Music legend Bob Marley is Mohammed's favorite singer, because as Mohamed puts it, "Marley's music is profound and makes me happy."

Knowing he's on the journey to self-improvement is motivating for Mohammed and gives him a strong sense of pride. He says, "That he wants to be the best I can be."

Please join the UPS team in congratulating Mohamed Elmansouri as our Individual of the Month!