21 Nov

Lynn's Stories – Mario Clarke
Invisible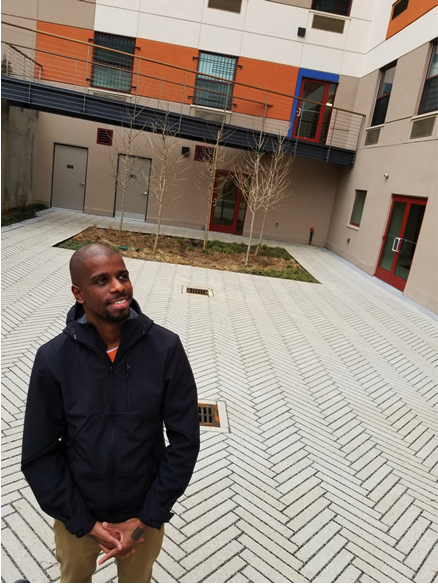 That is the word that Mario Clarke used to describe the feeling he experienced when people walked past him as he sat on a subway bench. He was once homeless.
Mr. Clarke moved to the United States from Costa Rica in 1990. It was an eye-opening experience for him. New to the country and limited English speaking skills, he immediately enrolled in English as a Second Language classes to hone his mastery of the language and his speaking skills.

He fondly recalls this was a pivotal period in his life. "I met people who were able to convey to me the importance of freedom and the true understanding of liberties." He also learned during this time of his untapped poetic artistry. "I learned about artist expression, which I now and forever whole heartily embrace. — I'm a spoken word artist."

Shortly after he moved to Chicago and attended college for a brief period, "I was full of youthful hope and determination." "I had a positive attitude that I thought was going to spearhead my future success" Mario shared. But bouts of extreme anxiety derailed that ambition and his college education. So in 2007, he returned to NYC. Back in NYC he held various jobs and continued to struggle to understand and deal with his anxiety. His acute anxiety caused essential relationships to deteriorate, and although he tried to manage his life, he eventually fell on hard times.

With the ache that shows in your eyes from painful remembrance, Mr. Clarke begins to share his story of homelessness.

"From 2014 to 2016, I was homeless. I slept outside, in the subway system, and eventually a shelter."

Remembering the first day of being homeless, the word "disillusionment comes to mind," shared Mario." My unmistakable new reality was paralyzing. I never thought I would be homeless, no money, no place to go and no one I could call for help. I was alone. I beat myself up for being in this situation".

"Homelessness was a smack in the face.—This was all new to me, there is no such thing as homeless training." "I experienced the rawness of bias and racism. I experienced people looking down and pretending that they didn't see me.— Making an assumption of the man I was and ignoring that I was still a person."

Being homeless is emotionally and physically exhausting. Mario also recalls that when he homeless, he says he felt like a —"UN– uninhabited, undisciplined and unkempt." But being ostracized in society is a scar that he never thought would heal. "It made me bitter, and I didn't always see the world in a loving light." "Homelessness brings about so many realizations– you realize, how the basics are so important,—- a bath, a warm meal, clean socks and clothes, and love. Being homeless —My life was now devoid of the basics" "What was also deeply agonizing is that the more fortunate, seem to forget that– and treat you with such disdain."

"In 2017, I found myself at a shelter seeking help. One day during a conversation, a caseworker suggested applying for a supportive housing opportunity" I asked her, "what organization fits my personality?" Lynn's Place was suggested. In February 2018, Mr. Clarke moved into Lynn's Place.

"The scars of homelessness were still ripe when I first arrived at Lynn's Place. The scars would fester self-doubt and fear inside of me." "When I first moved in, I couldn't sleep and for comfort would go back to the subway system to find a bench to sit on— to think or sleep" The deep, painful memories will always be with me, but having a home makes a difference "say Mario.

As he recalls the day, he moved in his eyes soften," It was like the day I moved into my college dorm– I felt a true sense of accomplishment."

As time evolves, having a home is changing how he feels. Mr. Clarke sees his home as an umbilical cord to his new reality- a way to reintegrate into society. "My home allows me to develop a solid base a connection to life."

When asked how it feels when he comes home at night— the poet in him arises, and he says, "It's like a warm loving kiss from someone you love— that accepts you for you. It's a beautiful feeling, to walk through the doors and hear my soul whisper gently "welcome home."