26 Apr

Lynn's Place is earning LEED for Homes v3 Gold certification from the US Green Building Council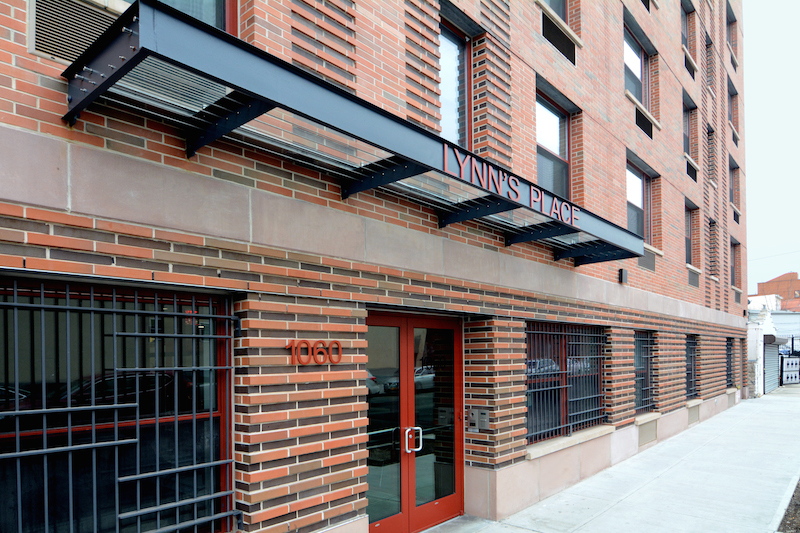 Welcome to Lynn's Street, a seven-story residential building located in the Bronx, NY. Lynn's Place is earning LEED for Homes v3 Gold certification from the US Green Building Council, as well as the ENERGY STAR Multifamily High Rise label, demonstrating a commitment to providing efficient, healthy housing that is good for the environment and residents alike.
What is LEED for Homes?
The U.S. Green Building Council created the Leadership in Energy and Environmental Design (LEED) rating systems to recognize buildings that are better for the environment and for their occupants. LEED works for all types of buildings from corporate offices to hospitals and homes, at different phases of construction. Each project can be awarded a Certified, Silver, Gold or Platinum LEED rating by meeting prerequisites and earning points for a variety of healthy and sustainable features. Developers, architects, mechanical engineers, and general contractors work collaboratively with a third party LEED for Homes Green Rater to ensure quality design and construction. The LEED for Homes program is broken into the following credit categories:

Innovation and Design Process
Locations & Linkages
Sustainable Sites
Water Efficiency
Energy & Atmosphere
Materials & Resources
Indoor Environmental Quality
Awareness & Education
For more information on LEED, visit USGBC's website: https://new.usgbc.org/leed
Why live in a LEED Homes certified building?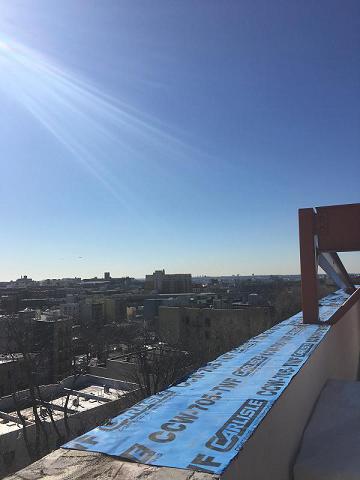 Lynn's Place is pushing the bar on sustainable housing in New York City with a LEED for Homes Gold certification. Offering 69 high-performance apartments with an array of sustainable features, we are contributing to the vision for a more sustainable New York City. There are many benefits of living in a LEED certified home, including:

Energy-efficient appliances and water saving plumbing fixtures that lower energy and water bills.
LEED-certified apartments have a lighter ecological footprint than conventional homes. Lynn's Place proactively and responsibly conserves resources.
Located in the Bronx, Lynn's Place is near transit and many resources for living, working, and recreation. A walkable community promotes physical exercise and cuts down on carbon from automobile transportation.
Superior indoor air quality is a key feature of LEED buildings. The designers of Lynn's Place are committed to providing a healthy living environment for future residents.
Targeting Gold Certification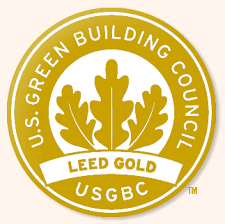 Reaching even the base level of LEED certification requires dedication, so here at Lynn's Place, we are especially proud of achieving the Gold level of certification.
Each apartment was designed and built to maximize energy and water efficiency, but close attention was also paid to durability, health, and aesthetics. Green buildings are often referred to as Triple Bottom Line, meaning they are good for the Planet, People, and our Pocketbooks. So in addition to saving residents money on utility costs, a LEED Gold building like this one should require less maintenance, provide a healthier interior environment, and create less havoc in the surrounding natural environment.

Energy & Water Saving Features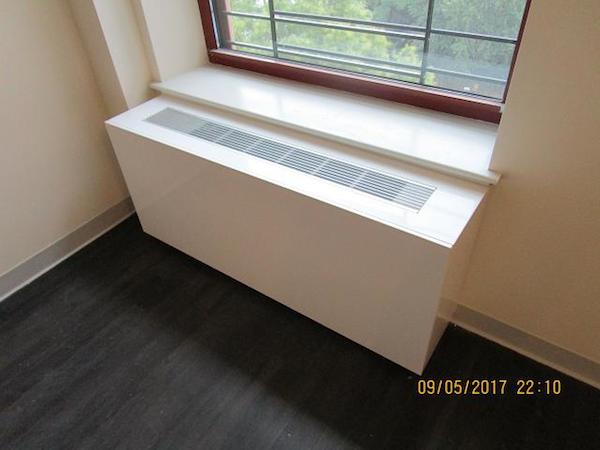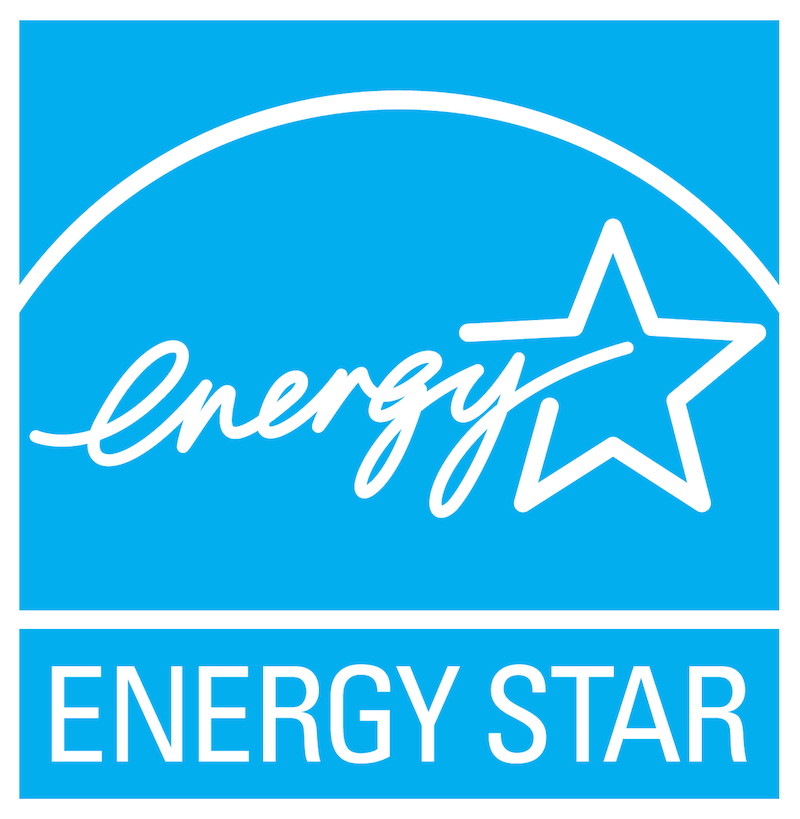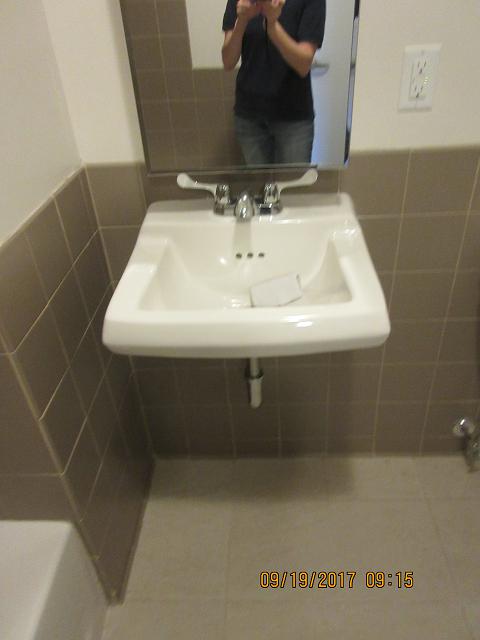 ENERGY STAR® APPLIANCES: High efficiency appliances including refrigerators are installed in the apartments. Efficient clothes washers are in the common laundry room. These will conserve both energy and water, which will reduce utility costs. The building's heating, ventilation, and air conditioning (HVAC) systems are also highly efficient.
WATER-CONSERVING PLUMBING FIXTURES: Low-flow showerheads, lavatory faucets and toilet are installed throughout the building. Expect to use 30-40% less water than in a conventional building, with no less pleasant an end-user experience. The landscaping was also designed to use little potable water by using native species as well as others that have adapted well to this climate.
PROGRAMMABLE THERMOSTAT: Located on each Packaged Terminal Air Conditioning unit, programmability allows for optimal climate control in your apartment and helps save energy when residents are away.
Green Building Materials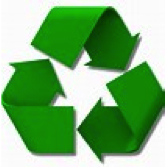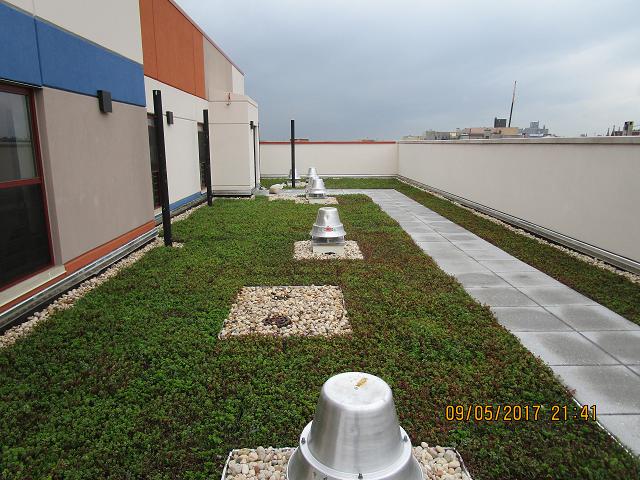 REDUCED CONSTRUCTION WASTE: An impressive 92% of construction waste was diverted from landfills.
LOCALLY SOURCED MATERIALS: Cement used in the masonry portions of project were extracted and processed within 500 miles of the site, reducing the overall environmental footprint of the project and contributing to local jobs.
GREEN AND COOL ROOF: Cities with lots of concrete and dark surfaces create "heat island effect" making it hotter than it would be in a nearby park or countryside. Part of the roof is covered with a planted tray system that provides habitat for birds and insects, absorbs storm runoff, and helps keep the building and surrounding microclimate cooler than a black roof would during summertime. The remainder of the building has a white reflective coating which also cuts down on the building's need for cooling on hot summer days, and avoids raising the surrounding temperature like a black roof would.
Smart Site Development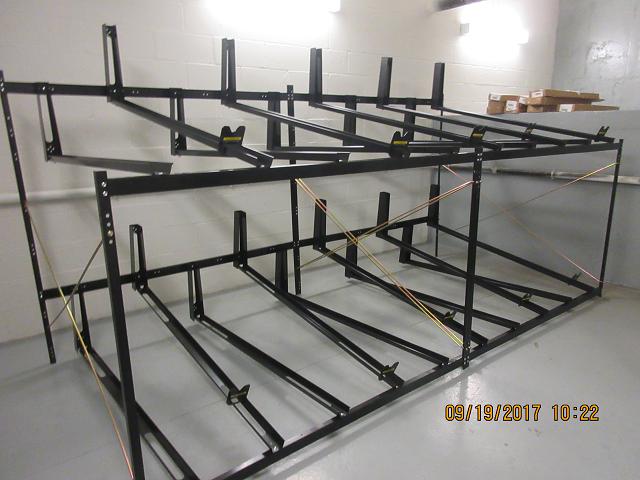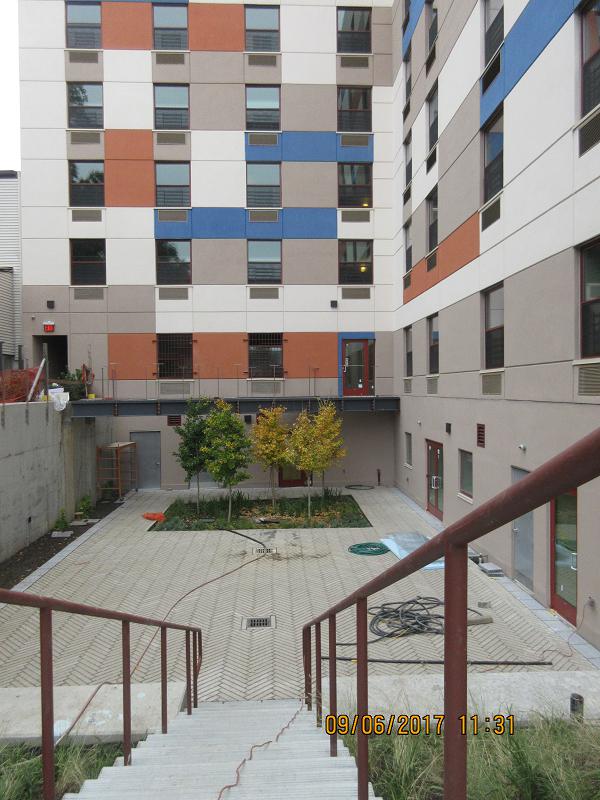 PUBLIC TRANSPORTATION OPTIONS: Located near the Intervale Ave, number 2, 5, and 6 subway lines run frequently and are within walking distance. Multiple bus lines run near Lynn's Place, including the Bx17, Bx4, Bx4A, Bx5, Bx6, Bx6S, Bx11, Bx19, Bx21, Bx27, and Bx35. Bike storage is located in the basement of the building as an alternate.
PEDESTRIAN-FRIENDLY ENVIRONMENT: With numerous shops and businesses located nearby, residents can take care of many of their daily needs without a private automobile. Community resources include grocery stores, schools, medical offices, parks, shops, and restaurants.
ACCESS TO THE OUTDOORS: The rear yard features beautiful landscaping and a paved path and patio that tenants can access. Nearby, the Basil Behagen Playground has play equipment, baseball fields, basketball fields, and handball courts.
THOUGHTFUL LANDSCAPING: In the rear yard, plants were selected to be non-invasive plants and drought resistant. This means many are either native species, or species that have adapted well to the local climate. A water efficient irrigation system with smart weather controls provides water only when necessary.
Indoor Environmental Quality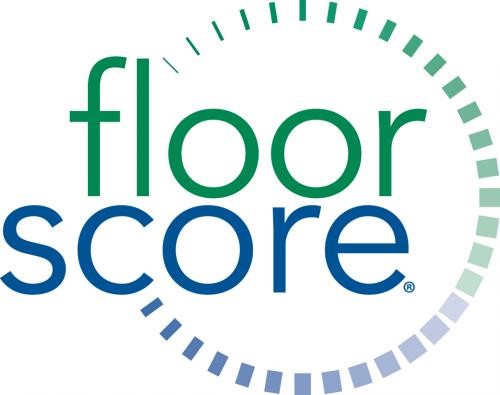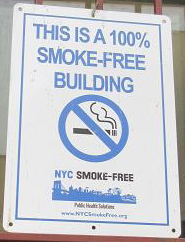 LOW EMITTING MATERIALS: Materials including SCS FloorScore hard flooring and low VOC paints were installed, minimizing the off-gassing that occurs with typical new material installation.
CONTINUOUS VENTILATION: Continuously exhausting air from the apartment removes contaminants (including humidity from cooking and showering). Fresh air is provided by the Packaged Terminal Air Conditioning unit. Recirculation of air within the apartment removes contaminants and provides fresh air.
SMOKE-FREE BUILDING: Second-hand smoke is deadly. A building wide no-smoking policy improves the health of all residents.
ENTRANCE CAPTURE: At the building entrance, a walk off mat removes contaminants on the soles of shoes. Indoor air quality is improved because these particulates are removed before they enter the living space.