03 Dec

Latoya Smith

Positive energy and a loving atmosphere have been instrumental in the growth and development of Unique People Services (UPS) individual Latoya Smith. The nurturing environment cultivated by Program Director Augusta Smith has resulted in a transformation that continues to delight everyone who's known Latoya in the ten years she's been with the agency.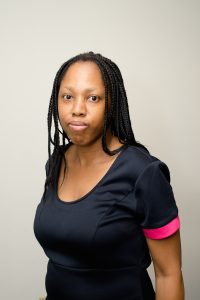 "Latoya used to be prone to outbursts and other behaviors that were challenging and disruptive," Augusta recalls. "Through the years, her attitude has improved tremendously and she now takes responsibility for her actions."
Augusta and her dedicated team of direct support professionals have worked closely with Latoya to enhance her communication skills and reduce conflict with others. "We teach her that if she has a problem, the appropriate behavior is to calmly express how she feels, rather than act in a negative manner," Augusta explains.
One of Latoya biggest strengths is her perception. She always remains aware of her surroundings, which has proved beneficial around her residence. She's helped to find misplaced purses and cell phones on more than one occasion. "I recently left my pocketbook laying around, and Latoya immediately closed it and handed it to me," Augusta points out. "She is very helpful. Anything I need, she's right there to assist."
Latoya has truly become a team player at the agency. When it comes to setting the table, washing dishes, taking out the garbage or performing other chores, Latoya is front and center ready to help. She also keeps her room immaculate with grooming habits to match. "Latoya is my little diva," Augusta says. "She loves her hair braided a certain way, and her outfits must always coordinate. She looks her best whenever she walks out the door."
In the community, Latoya is the go-to helper at the supermarket, scanning the aisles to complete the week's grocery list to prepare healthy meals with staff. She's also learning laundry skills at a nearby laundromat, while setting new goals at the agency, such as traveling independently and successfully navigating signs and safety signals.
When it comes to her peers, Latoya is quick to lead the way. "One of our individuals has difficulty walking, so Latoya holds her hand on the way to the van that transports them to Day Hab," Augusta explains. "Latoya sees the genuine love of our staff and it resonates with her." At the end of the day, Augusta points out, individuals are just like us: they want someone to listen to them and hear what they have to say. "Our staff lets individuals know that they're always here for them," Augusta says. "Latoya feels at home here and it shows!"
Please join the UPS team in congratulating Latoya Smith as our Individual of the Month!