03 Jan

Kendall Matthew

Unique People Services (UPS) individual Kendall Matthew is living proof that you can go home again.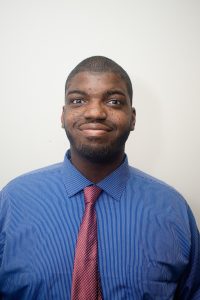 A native New Yorker, Kendall had lived at an out-of-state residential school until he aged out, and when returning back to New York, chose UPS as his new home.
When he arrived last year, Kendall was initially withdrawn and introverted but quickly began adapting to his new surroundings, with the help of encouraging UPS staff teaching daily living and other essential skills to help Kendall become more independent. As a result, he's gained more confidence and increased leadership skills among his peers. Others now look to Kendall for guidance and he eagerly shows them how things are done!
At the grocery store, you'll find him breezing through aisles gathering food and beverages for the week. When he returns home, he helps staff put groceries away and performs any other tasks needed – even his least favorite ones.
"If we notice his laundry basket is full, we'll give him a little nudge and that's all it takes to get him motivated," explains Sherri Lindo, Residence Manager, UPS. "He takes direction well and is comfortable knowing that he can always come to us if he needs a hand with anything."
Sherri and her outstanding team of direct support professionals always aim to encourage Kendall with positive feedback. He takes pride in contributing to household activities and makes sure that his bed is made and that his room is clean by the time Sherri comes to work.
"He's proud of where he lives and it shows," Sherri says. Kendall's enthusiasm was in full force when his mother came to visit, leading her on a lively tour of his new home.
Kendall's socialization and communication skills continue to grow at UPS, and his personality is blossoming. His room is a reflection of his hobbies and interests, with super hero action figures lining the shelves. He can even go from Clark Kent to Superman in a flash.
When he's out in the community, Kendall's personality really soars. He has become more active and take-charge, often suggesting recreational ideas to staff. "Kendall loves to bowl and he's very competitive," Sherri explains. "He wants to win. If he doesn't, we've taught him that it's okay to come in second or third or fourth. Everyone is a winner."
In addition to improving his bowling skills, Kendall's other goals include enhancing his appearance with the hope of getting a girlfriend – a goal not uncommon for a young man about to turn 23.
Like many of us, losing weight in 2017 is high on his list of priorities. Sherri and her staff are introducing a number of healthy food options to Kendall to kick-start his personal journey. They're also encouraging him to drink more water, and are helping him maintain a light fitness routine to steer him toward his goals.
"For Kendall, it's all about being well-groomed and looking good," Sherri says, especially when he celebrates his birthday this month. A big party is already in the works, but with his newest honor, perhaps the celebrating will start early:
Please join the UPS team in congratulating Kendall Matthew as our Individual of the Month!