03 Feb

George Washington

Homelessness, health struggles and legal challenges were just some of the hurdles faced by George Washington before moving into a Unique People Services (UPS) residence in April 2014. Security and stability were unfamiliar concepts to George, but with the help of dedicated UPS staff, his life quickly began to change.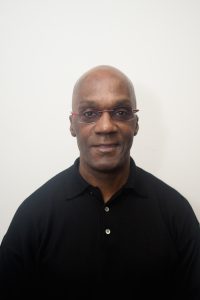 Unique People Services employed Case Manager Elizabeth Jimenez works with George to help him set and attain new goals. He's now living a life of self-sufficiency, which has increased his independence and self-esteem.
"He's paying his bills and maintaining a neat, clean household," Elizabeth says. "He takes great pride in that."
Helping tenants secure a safe, comfortable roof over their heads is at the heart of the agency's mission; as well as providing services that assist George to foster clean living, self-reliance and sound mental health. George's structured lifestyle exemplifies the efforts he has made to live the life of a responsible tenant, fully assimilated into the community. On any given weekend, you may find him at the Laundromat, enjoying a game of bowling or watching sports in the one-bedroom apartment he proudly calls home. He credits UPS for helping him land on his feet and live a fulfilling life away from the shelter system.
Elizabeth's encouragement and support has been instrumental in guiding George along his positive path. She's available 24/7 any time he needs to talk. "George appreciates having a sounding board," Elizabeth points out. "At UPS, we always listen to our tenants so that they have a voice and know that we are here for them."
Offering words of praise is also essential. Elizabeth often acknowledges George's excellent organizational skills and his ability to stick to routines, which includes attending community programs and maintaining a healthy lifestyle through attending medical appointments.
"George is extremely committed," Elizabeth says. "He's motivated by his desire to never be homeless again." He believes in "always having faith and hope," his favorite quote that has become his mantra in life.
George's newest goal is to land a part-time job. He's currently receiving vocational training to prepare him for employment. He hopes to work in transportation as a delivery truck driver. As someone who is very "driven," we're certain he will reach his goal!
Please join the UPS team in congratulating George Washington as our Individual of the Month!