03 Dec

Christina Lui

Christina Lui is truly a "gift" to all who know and meet her and that is why she was chosen as our December Individual of the Month. Christina currently resides in one of our Individual Residential Alternatives (IRAs) in Queens for people with Developmental Disabilities. She came to Unique People Services in 2010 at the age of 30, after living with her parents, so that she could progress toward more independent living.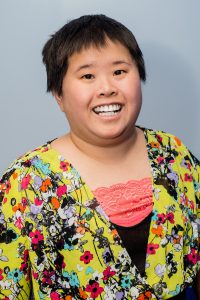 Christina is very family oriented. She looks forward to her weekly Sunday visits at her parents home as well as spending the holidays with them. At the residence, she is always willing to assist staff or her peers and can usually be found welcoming visitors, helping around the house with chores like cooking and cleaning and oftentimes is willing to go far and beyond her individual goals. She is the unofficial greeter and gatekeeper, keeping mental notes of each visitor and their purpose for being there.

Prior to coming to UPS, Christina did exhibit some aggression and behavioral problems. Staff has seen positive changes and have noted her courage when taking on new tasks on her own that previously would have prevented her from even attempting.

Christina has shown precise knowledge of time management. One could call her the house calendar as Christina will often remind her peers of their scheduled doctor's appointments, birthdays and current events. Her keen sense of observation and ability to recall persons, places and things serve her well as she utilizes this skill to personalize each individual and her experiences as it relates to them.

Christina is also an avid reader and enjoys taking journeys through the stories that she reads. She gets excited and looks forward to reading the various books brought in by staff from time to time as she is always looking forward to her next adventure through the pages. Her favorite thing to read is the newspaper as she insists upon keeping up with current events. Christina enjoys listening to her portable radio and getting lost in the music.

Christina has also displayed a keen awareness of other's emotions and seasonal affective disorder. She shows sincere empathy towards her peers, especially if they may be feeling under the weather and tries to find outlets to get them back thinking positively and feeling good again. This includes sharing her thoughts and own tried and true home remedies for wellness like tea with honey for the common cold in order to make the individual feel better.

When it comes to community integration and travel, Christina is the person to depend on. She has a great sense of direction and assists staff by reading signs and retracing steps to ensure everyone arrives to the destination. Christina is learning money management and used her allowance and/or money she has saved to purchase some tangible items such as clothes and make up as she loves to look her best.

Christina is a very independent and determined women and staff look forward to working with her as she continues striding through her set goals.

Please join the UPS team in congratulating Christina Lui as our Individual of the Month!